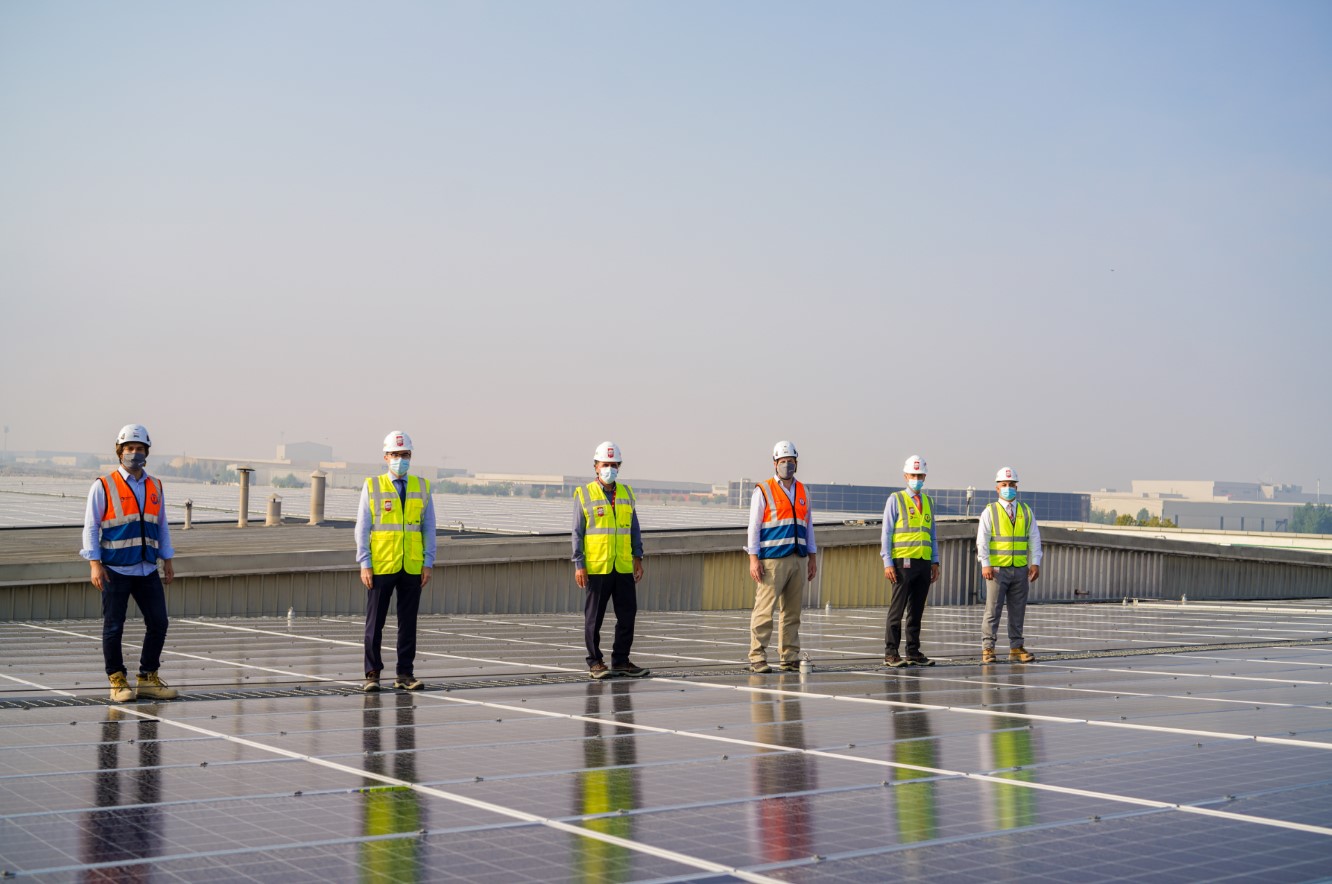 Bayara and Total Solar DG Celebrate One Year of Solar Rooftop Installation
Mar 23 , 2021
Estimated reduction of nearly 1,000 tons of CO2 per year, which is equivalent of planting over 25,000 trees
Dubai, UAE — February 2, 2021: Gyma Food Industries – Bayara, a leading manufacturer of nuts, dried fruits and spices across the Middle East and Africa region (MEA), and a renowned brand of pure and natural flavors, is celebrating one year of its solar energy transition. This project has been powered by Total, through its affiliate Total Solar Distributed Generation (DG) Middle East, a regional leader in the development of solar solutions for commercial and industrial businesses.
Over 3,700 photovoltaic (PV) panels were installed on the rooftop of Bayara's main production facility in Dubai Investments Park (DIP), spanning around 7,000 square-meters, which roughly equals the surface area of 27 tennis courts. Total Solar DG also installed an electric vehicle (EV) charger in the production facility's parking lot, which uses solar energy to charge Bayara's employees' vehicles.
The solar solution, provided by Total Solar DG, allows Bayara to pursue its commitment to sustainability and now covers over 73% of Bayara's electricity needs. With a capacity of 1.4 megawatts-peak (MWp), the PV panels generate over 2.2 gigawatt-hours (GWh) of renewable energy annually, allowing an estimated reduction of nearly 1,000 tons of CO2 per year for Bayara, which is equivalent of planting over 25,000 trees.
"We are a forward-looking and conscientious company, and we are committed to creating a sustainable future. Environment-friendly practices are an integral part of our strategic thinking. Total Solar DG's solar rooftop installation has effectively and efficiently facilitated our move to solar energy. This was achieved without any downtime or disruptions to our day-to-day operations. Now, a year into this transition, we can really appreciate the positive impact this installation has had on the environment. It has also allowed us to better align ourselves with the UAE Energy Strategy 2050," commented Jean-Marc Lourau, CEO at Gyma Food Industries (Bayara).
"We are proud to have collaborated with Bayara, and to have played a crucial role in their solar energy transition. We share their vision for a sustainable future, which is what makes this partnership so successful.  At Total, our climate ambition is to work in conjunction with society to achieve net-zero emissions by 2050. Our partnership with Bayara lines up with this objective — the solar rooftop installation project has successfully reduced Bayara's annual CO2 emissions. We are pleased to have facilitated this step towards a sustainable future," noted Marin de Montbel, Managing Director at Total Solar DG Middle East.
This project falls under Bayara's vision and future plans for more sustainable practices through reducing the utilisation of plastic and reducing transportation by processing and farming their products in the United Arab Emirates.
For more information about the announcement please visit: https://www.totalsolarme.com/en/bayara-gyma-food-industries-rooftop-dip-dubai