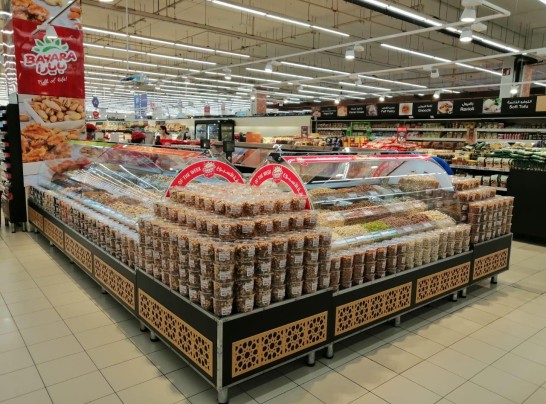 200 Shop in Shop Counters
Mar 02 , 2021
We are in every store, we are in every heart: BAYARA Proud of celebrating its 200th souk counter units in more than 7 countries
BAYARA the pioneer and leader of dried fruits, nuts and spices category in the Middle East is celebrating one of its major milestones, since its foundation in 1992. At the beginning of this month, this established FMCG brand has officially completed a total of 200 Souk counters openings in various super and hypermarkets across the GCC. Since its launch, BAYARA has not only successfully carried on the legend and expertise of Gyma Food Industries in terms of performance, but has also managed to be the number one choice of consumers' brand salience.
In 1995, BAYARA was the pioneer to modernize the concept of 'The Souk' within the modern trade, inspired by the old tradition. BAYARA's objective was and still is founded on authenticity and on bringing cultural relevance to its loyal consumers through their vast range of products. The company has also extended the same heritage in 2015 to Egypt and to Saudi Arabia in 2017, where it did not only export similar products to these two major countries, but started their own full operational manufacturing facilities, with a full-fledged team.
BAYARA also exports massive quantities of nuts, dates and creative mixes of spices and many more to Oman, Bahrain, East African countries and others at the intersection of Europe and Asia, mainly Georgia. Further to growing the business, BAYARA abide by the concept of 'Adaptive Marketing' in setting stones for overall strategy, against the various current market hinders and challenges. In the same respect, the higher management of the company are in fact presently working towards strong strategic territory extensions in the near future, with Turkey being on top of their list. BAYARA is not only business driven, but also works within a very people oriented environment; recruiting, training and nurturing different talents from various nationalities and backgrounds.
Some of our recent Souk openings in the UAE are Géant Express at city walk Dubai, Abu Dhabi cops at Mina and Abu Dhabi mall. Carrefour Sur and Al Ameri hypermarket in Oman, Hyper Hayat, Casino Prima at Ivory-coast and many more. BAYARA continues to expand its list of clientele with good products and high level of professionalism, both in retail and in the food service. With an enthusiastic team prioritizing quality and diversity, as well as great consumer engagement through multiple channels; all of these elements contribute greatly in breeding robust consumer loyalty – the ultimate dream of any FMCG brand today.